DNA Digital provides a personalised website optimisation report where our qualified experts use sophisticated analysis tools and review your website to provide a comprehensive "TODO" list of things you can implement immediately to increase your search engine ranking and traffic.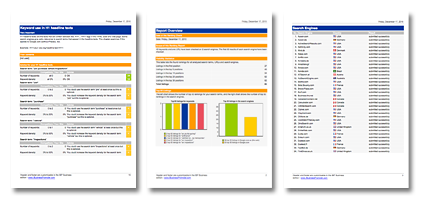 You get 3 reports :
Ranking Report – See how your site ranks for several key terms
Mass Search Engine Submission – To over 50 worldwide search engines and directories.
Top 10 Optimiser – A detailed analysis of your website, and competitors, and detailed recommendations
NOTE :  Be careful of companies who promise you "SEO" packages! Research them first and find out whether their strategy is good for you. Instead of ongoing charges, DNA Digital shows YOU what you need to do, then you can do the work the report outlines, or commission another company or us to do the work required.