Hello world.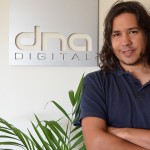 My name is Dylan O'Donnell and I started DNA Digital in my bedroom in 2001. It has since grown into a multiple staffed, public office company.
I currently live and work in Byron Bay, NSW. When I'm not doing website development, graphic design and online marketing I might be playing guitar, outside practicing astrophotography or doing something geeky with my son, like playing with spaceships or lasers.
As the founder and director of DNA Digital, I welcome your feedback and solicitation for project assistance or partnership. We are building a great team and looking for great projects to work on.
Kind regards,
Dylan O'Donnell 
Bachelor of Information Technology  (CSU)
Masters of Information Technology  (With Distinctions, CSU)
Deans Award 2009, 2010
Google Adwords Qualified Individual
Google Analytics Individually Qualified
Publications / Media
NASA – "Sunshine / Earthshine" Astronomy Picture of the Day 2015
Boing Boing – "Earthshine" 2015
Australian Sky & Telescope "M22" Feb 2015
NASA – "Red Moon Rising" Nasa Viz iOS App (Feature Photo) 2014
Life Hacker – "How I Officially Lost My Religion" 2014
Northern Star – "Caught Up in the World Wide Web" 2012
The Echo – "eBay for Ecstasy: The Online Marketplace" 2012
Lifehacker – "How to Live in a Car and work in IT"  2012
Gizmodo – "How to Live in a Car and work in IT" 2012
NSW Chamber of Commerce – "DNA Digital Innovation Success Story" 2011
Northern Star "Couple Weave Their Own Web" 2010
TUAW – "Smile You're on Candid Laptop" 2007
Border Mail  – "Comet McNaught (Photo Page 2)" 2007
Apple.com "Deography Widget – Staff Favourite" 2007
Border Mail "Lightning Striking Monument Hill" (Photo, Front Page Cover) 2006
Triple J Online "Regurgitator (Photos)" 2004
Camera Magazine "Durass Beach (Photo)" 2004
Appearances / Talks / Interviews
Why Marketing is as Important for You as Your Clients (Google Engage, Brisbane) JUN 2013
Bay FM "Byron Business with Phil Daly" SEP 2011
How to Make Sales & Influence People (Byron Bay) APR 2011
How to Make Sales & Influence People (Byron Bay) MAY 2011
How to Make Sales & Influence People (Yamba) MAY 2011
Zen & The Art of Google Adwords (Ballina) MAY 2011
Zen & The Art of Google Adwords (Lismore) MAY 2011
Zen & The Art of Google Adwords (Tweed Heads) MAY 2011
Google – "Businesses are from Mars, Customers are from Venus" (Melbourne) JULY 2016