The Joy of Using a Height Adjustable Standing Desk
About 6 months ago I saw the light and spent over $2,000 on a desk. In doing so I joined the growing chorus of nerds and professionals who are standing while they work.
Something that didn't feel right to me was sitting such long hours. On a typical work day I might sit a good 12 hours, and then go home and sit some more. You do it too right? Here we are, the great ape who stood up and conquered the world – sitting down like a chump!
Over 15 years of work and study most were spent sitting, and I think I stacked on a kilo for every one of those years.
We spend so much time sitting, I felt it wasn't just justifiable but downright important to get a standing desk. In the end I went for an L-shaped desk with an electrical gearbox that raises or lowers the desk as needed.
There are a bunch of studies about the damage sitting causes, but I want to tell you my own personal experience after 6 months of standing at work.
When it arrived in pieces it took some time and calls back to the distributor to figure out how to put it together. The parts are from Europe and the wood tops are from Australia, and nobody had put together any real instruction manual. There wasn't even a photo of what it was meant to look like, except for the small thumbnails on the website.
The first few days I used it I could only stand for an hour at a time. It was jarring. My calves were aching, and my feet too.
I would stand an hour, sit and hour, stand some more, then sit .. and so on.
After a month, I was standing all morning, then sitting down for the afternoon.
6 months on however, I catch myself standing all day and only sitting for lunch. I say "catch myself" because I really do forget to sit. In fact sitting down to work is now beginning to feel jarring and that's a really, really odd sensation!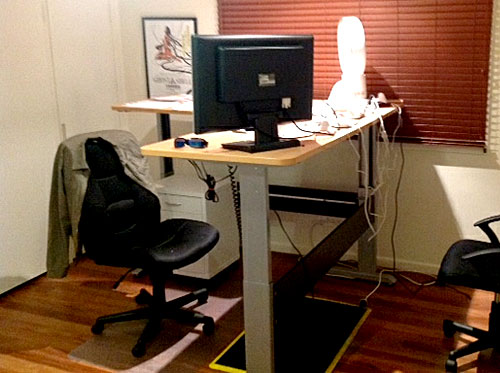 I don't know if it's had an impact on my concentration but my workflow and output are fine. I take calls and program / design for most of the day. I'm a natural pacer on the phone anyway, doing laps around my office.
I don't really know anyone else with a standing desk so I can't compare notes but I'm sold on it. If the research is right, I may have added years to my life and I can certainly feel the positive effects physically. It's kept my metabolism high (although maybe that's the Red Bull) and my weight stable.
What I like most though, is that once you get used to it, it's actually very comfortable. Maybe even more comfortable than I was before. I was forced to sit at another desk recently and come 5pm realised just how tender and sore my butt was, and yet I must have endured years that way – or my arse had become complacent.
Comfortable, healthy, versatile.
And that's why I use a height adjustable standing desk.