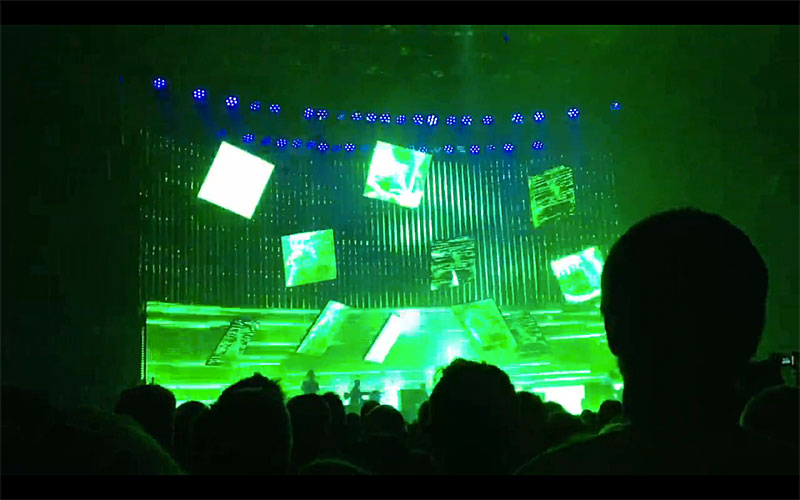 Radiohead – Brisbane Entertainment Centre Nov 10 2012
1993 was a good year for me. Maybe one of those golden years I'll always look back on fondly. I was 15, had been playing guitar for a year, had a few girlfriends. It was also the year after Radiohead released "Creep" which was a runaway success, hitting #2 in the hottest 100.. only bested by Denis Leary's "Asshole". It was an angsty time, those grunge years.
But where Denis Leary's comedic musical success was never repeated, Radiohead's quirky and perhaps a little ironic song, was followed up with 19 years of incredible music. Some experimental, some mainstream successes but never anything as simple as "Creep" again.
Fast forward 20 years to Friday night at the Brisbane Entertainment centre in 2012 where a sell out crowd as diverse as any arrives to hear Radiohead in the flesh, and me, also 20 years hence. I'm different now, and so is Radiohead.
What they played :
Lotus Flower
Bloom
Airbag
The Daily Mail
Myxomatosis
The Gloaming
Separator
Reckoner
You and Whose Army?
Climbing Up the Walls
Nude
Staircase
There There
The National Anthem
Feral
Bodysnatchers  
Encore:
Give Up the Ghost
Pyramid Song
Morning Mr. Magpie
Paranoid Android
Street Spirit (Fade Out) 
Encore 2:
15 Step
Everything in Its Right Place (Unravel intro)
Encore 3:
Idioteque
The first thing that struck me during the opener was the sound quality. I've seen a lot of shows, including at the Brisbane Entertainment Centre, but none with the clarity of Radiohead. All instruments were perfectly mixed, and the volume was loud enough to move you. It never became too loud for my ears or the front of house speakers. Except for one song which I'm certain began and ended with the brown note. (Listen for it!)
Radiohead's video and lights for this tour are incredible and extremely well planned. 12 moving screens change position throughout the show while 6 remain fixed across the top of the stage. They are all perfect squares and project neatly cropped, photographic snippets of the band as they play. One might be a patch of stage, with half a foot tapping, or the top quarter of the snare drum. Visually, it was well directed and creates a very stylish music video effect that never distracts from the playing, but supports it. It also allows the band to remain relatively still, and play the music note perfect – which they did.
QR Code's flashed between every song and I captured most of them, but alas I can't seem to get them to scan validly. Keen fans will enjoy hunting down their extra content.
Apart from the practical, the whole show was visceral, dynamic and intense. Radiohead takes you from pindrop silence to gut wrenching noise over and over throughout the set with carefully constructed crescendos and contrasts. The musicality is so high, and their song writing so intelligent, It sometimes felt like I was watching a Pink Floyd concert, or maybe Beethoven. The percussion is extremely modern and drifts effortlessly between rock fills to techno-infused break beats without ever feeling contrived or forced.
Indeed, Radiohead seem to be one of the few "rock" bands of the 1990's who experimented with electronic instrumentation, and kept going. For other bands of the time, they may have had a album with samples or drum loops that was never repeated. Radioheads use of electronic elements throughout the music fuse perfectly with Thom Yorke's operatic singing style and often feel louder and heavier then any contemporary dubstep or EDM artists. At times, I thought the stadium was about to take off into space, dock with the mothership and warp at lightspeed to alpha centuri.
Radiohead's 20 year career is well represented in their 2012 live tour, which is uncompromising, powerful and musically superlative.